Gender & Sexuality Studies at New Mexico State University offers learners world ready knowledge with critical and creative practices that shape inclusive futures. Our graduates are 21st century changemakers. Worldmaking is our profession.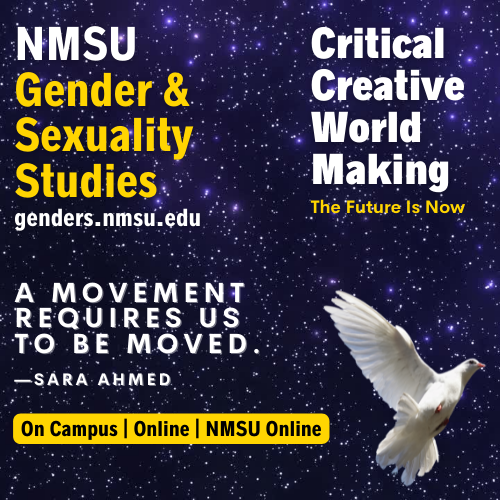 For more than thirty years now, this academic program has been an innovative leader in the inter- and multidisciplinary study of gender, women, queer & LGBTQ+ practices and identities, borders, transmedia & cultural studies, and transnational & refugee studies. 
Grounded in theories, methods, and approaches in feminist, queer, and other transformative movements, graduates of Gender & Sexuality Studies are innovators who bring socially engaged knowledge and leadership to the workforce, daily life, community organizing, institutions, aesthetic praxes and reception, and even further possibilities. 
Cultivate your passion for social change into knowledge and action. Join our community of committed learners.  
---