Spring 2024 Courses
G&SS Speaker: Kim Baranowski
Dr. Bejarano, G&SS faculty member and the Arts and Sciences Fulton Endowed Chair, has invited Dr. Kim Baranowski to discuss responding to the experiences of gender-based violence for asylum seekers. Dr. Baranowski is a licensed psychologist and consultant who works in the fields of trauma, forced migration, human rights, and global health.
The event is on November 14, 2023 at 5:30-7:30pm at the Health & Social Services Auditorium Rm 101.
---
G&SS: World-Ready Knowledge
"I believe in the transformational power of the Gender & Sexuality Studies curriculum. I believe supporting the G&SS program and its curriculum is an act of resistance and hope and an investment in our future."
Heather Lang, PhD (she/her/they/them)
NMSU Gender & Sexuality Studies Alum (BA, 2010)
Associate Professor of English and Creative Writing, Writing Coordinator
Susquehanna University
---
Gender & Sexuality Studies (G&SS) at New Mexico State University (NMSU) is all about equipping you with the tools, knowledge, and critical thinking skills essential for fostering inclusivity, engaging in interdisciplinary research that transcends traditional academic boundaries, and promoting positive social change.
Our degree program shapes change-makers, proficient in different methodologies and theoretical approaches that span intersectional women's studies, gender analysis, feminist and queer theory, LGBTQ+ activism, and sexual diversity. With a history spanning over three decades, we offer an interdisciplinary curriculum that delves into crucial topics ranging from gender equality and social justice to transnational migration, and film, media, and cultural studies. Here, you're not just earning a degree; you're joining a community committed to making a lasting impact.
Upon graduation, students completing a major, minor, or graduate minor in Gender and Sexuality Studies will demonstrate:
Interdisciplinary Critical Thinking: Demonstrate the ability to apply a wide range of critical and creative methodologies, including feminist, queer, and transgender theories, to analyze complex problems related to gender, sexuality, race, society, difference, and social change. Whether you're dissecting historical documents or analyzing current events, you'll be equipped to contribute to groundbreaking research.

Transformative Research and Research-Creation: Here, research isn't just about writing papers; it's about sparking change. Engage in a variety of transformative approaches—from ethnography and critical analysis to textual analysis and research-creation projects like digital storytelling and comics inquiry. Plus, you'll have opportunities to participate in special initiatives like the Feminist Border Arts Film Festival and Transnational Solidarity Day. 

Communication for Social Impact: Gain skills to engage, challenge, and forge new and different pathways. You'll learn how to articulate complex feminist, queer, and transgender theories in a way that resonates, whether you're presenting at an academic conference, leading a community workshop, or advocating for change in diverse social settings, including the workplace.

Effective Writing Across Media and Formats: Write powerful essays, create digital content and media-based projects that explore the complexities of social identity, power, difference, and social change.

Media Literacy: Critically analyze and engage with different kinds of texts, approaches, and media, understanding their impact on societal constructs and lived experience.

Advocacy and Civic Engagement: Utilize skills in advocacy and community organizing to effect change in policy and social structures at both local and global levels.

Borderlands, Transborder, and Global Perspectives: Through a transborder lens, explore how gender and sexuality intersect with issues like migration, indigenous rights, and environmental justice. Engage in hands-on projects that prepare you to be a changemaker, from documenting oral histories to participating in community art installations. You'll emerge with a nuanced understanding that empowers you to contribute with informed action on transnational issues, borders, and the Borderlands region.

Transformative Leadership and Professional Development

: 

We offer an education that exceeds traditional academic boundaries, modeling multiple pathways for research, teaching, and community engagement, including digital initiatives. You'll acquire knowledge, approaches, and skills that empower you to be an agent for positive social change, grounded in research-based practices and critical thinking, generated from decades of feminist, queer, and other socially transformative knowledge projects and movements.
---
"In Gender and Sexuality Studies, student success is not just a goal, but a commitment. The faculty genuinely cares, seeking our voices, championing our triumphs, and investing in our futures. Every professor I've encountered relentlessly asked, 'how can I make sure you succeed?' - and then they did more than just listen, they took action. They see us not just as students, but as a vital community, guiding our educational paths with relentless commitment and equipping us with invaluable tools and unwavering support."
-Casey L Combs

NMSU G&SS Alum (Minor, 2023)
---
By choosing Gender & Sexuality Studies as your major, minor, or graduate minor, or by enrolling as an NMSU Global student, you're joining a community of passionate individuals committed to dismantling systems of inequality and advancing social justice. You'll be part of a network of change-makers who are creating more inclusive futures. Your education here will equip you with the diverse skills and perspectives you need to thrive in an ever-changing world, making you a valuable asset in various fields and professions.
At NMSU's Gender & Sexuality Studies program, education is not just informative—it's transformative. Together, we'll discover skills, perspectives, and passions you never knew you had, and make a lasting impact.
---
Downloadable G&SS Digital Media
Uncover a curated collection of resources designed to empower you to express, engage, and transform through digital media. 
---
Feminist Border Arts 2024 (FBA24)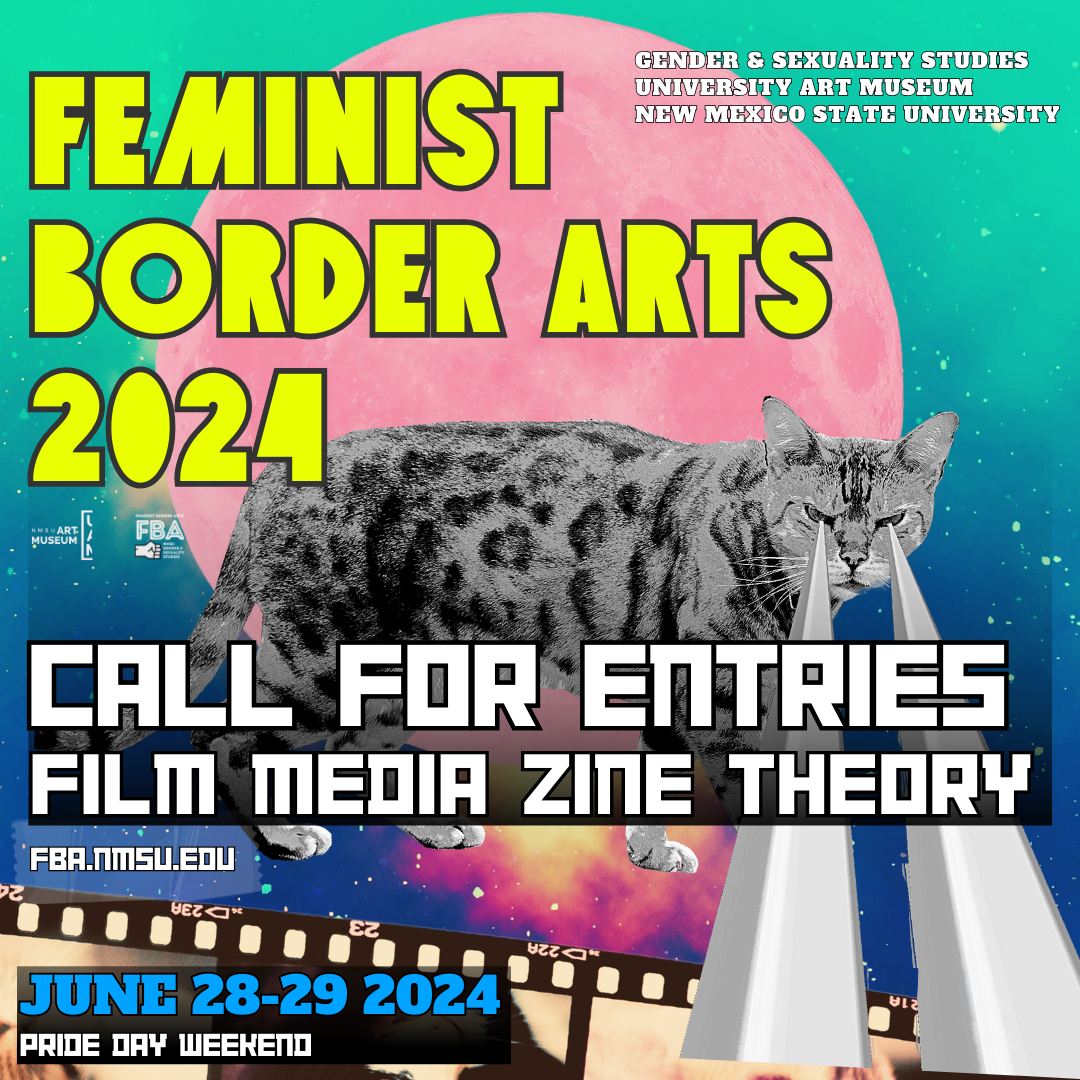 Prepare to celebrate Pride 2024 like never before.
Anticipate two days of short film and digital media, zines, workshops, speakers, and panels. Join us for the Feminist Border Arts Film & Zine Festival, kicking off on Pride Day, June 28 in 2024.
Day 1 - June 28: Immerse yourself in the world of short film and digital media, from the US and around the globe. They educate, challenge norms, rebel against conventions, delight the senses, and demand change.
Day 2 - June 29: It's a zine revolution! Explore narratives that defy authority, journeys that break boundaries, comics that will change your life, and tales that celebrate community, social change, and creative expression.
Click for our call for submissions, inviting filmmakers, scholars, artists, activists, community members, and zinesters to be part of this media space of change and creativity. More details are on the way.
---
MACS: Media Arts & Cultural Studies Courses in G&SS
MACS (Media Arts and Cultural Studies) course concentration offers a unique specialization through an exciting fusion of contemporary creative forms, media, and film with the insights and perspectives of women's, gender, and sexuality studies, including feminist, queer, transgender, and transnational perspectives. Whether you are a Gender and Sexuality Studies major or minor, or simply an interested learner, our MACS courses are open to you.
Through MACS, we explore the dynamic intersection between media, arts, and culture, and how they shape and are shaped by gender, sexuality, difference, and social change. By enrolling in MACS courses, you will delve into the analysis of contemporary media, such as films, television shows, graphic narrative, digital platforms, popular culture, and other creative forms. You will critically examine how gender and sexuality are represented, negotiated, and challenged within these cultural artifacts. Furthermore, you will gain valuable insights into the ways media and arts can be harnessed as tools for social transformation, activism, and cultural critique.
MACS goes beyond being just an area of expertise; it offers a transformative learning experience. Our faculty members are experts in their respective fields, bringing a wealth of knowledge, creative practices, and diverse perspectives to the classroom. They are committed to fostering engaging discussions, encouraging critical thinking, and supporting your intellectual and creative growth. Through our courses, you will engage with project-based learning and research-creation methods. We believe in exploring combined research and creativity outputs and utilizing digital humanities and do-it-yourself (DIY) approaches. These approaches empower you to create meaningful media, such as zines, and develop digital projects that challenge existing narratives and promote social justice.
---
NMSU needs G&SS, plain and simple. Not only am I speaking from previous experience as a former student, where G&SS courses fundamentally shaped me as a scholar, but also as an instructor with more than 5 years of teaching experience. My students often express the need for space and intellectual understanding concerning their lived experiences and diverse identities. In an institution where diverse student experiences might be overlooked or undervalued, G&SS plays a crucial role in providing the necessary support and recognition.
Juan "Ricky" Araiza
NMSU G&SS Alum (graduate minor, 2020)
---
D.I.Y. Media Studies and Methods
MACS courses are available to students on-campus, online, and through NMSU Global, ensuring accessibility and flexibility for all learners. Our curriculum is designed to provide a comprehensive understanding of the intersection of media, arts, and culture with gender, sexuality, and social transformation. 
In addition to our engaging courses, we offer exceptional extracurricular opportunities. The Feminist Border Arts Film Festival and SJZ: Social Justice Zine provide platforms for you to showcase your skills and put your learning into action. These foster community engagement, promote dialogue, and amplify underrepresented voices through the powerful medium of film and the expressive medium of zines.
Enroll in our courses, immerse yourself in project-based learning, and contribute to the evolving field of Gender and Sexuality Studies through digital humanities, arts activisms, analysis, and DIY methods. 
---
GenXProf Social Media